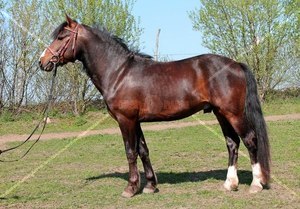 Horse category

Gender

Stallion

Breed

Bay

Specification

Show Jumping

Age

17 years (2006)

Price

less €10,000

Buy
---

Selling pony stallion bay suited, very elegant, good exterior. Born in 2006 128 cm at the withers. Jumped. The routes are 60-80 cm. Loners are 100 cm inclusive. Very comfortable paces, soft jump, the horse is energetic and impulsive, very sensitive to the body, soft mouth. A self-driver on obstacles, only have time to show. Character kind, but a strict horse. The passport of VNIIK is issued. He is driven into a cart, works on reins, on a cord.
Sold only where there is a possibility of walking / grazing, without a city rental. Can be castrated.
Possible sale with ammunition.